This was our first year at TechXLR8, London Tech Week's flagship event and home to 7 of the biggest technology conferences bringing together 15,000 attendees.
We got acquainted with fascinating new ideas from other exhibitors, from robots that will run a face recognition, answer some of your questions and dance with you, exclusive innovative ideas that might change the way certain brain surgical procedures are done, to self-learning AI and how you can implement it in real life rescue missions.

Although this fair was packed with people, participants had enough room to wander around, witness smart robots and AI in action, participate in live presentations, interact with numerous exhibitors and, of course, learn more about us and the testing tools we develop.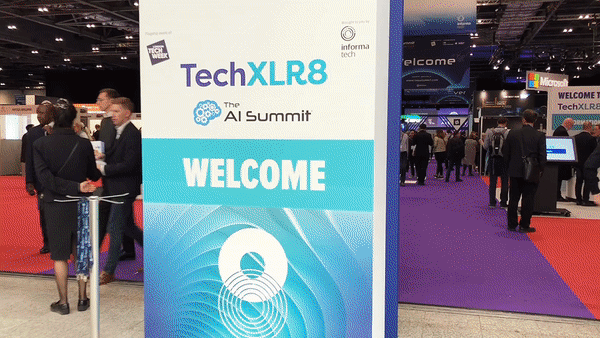 Altom Testing Tools presented at TechXLR8
For this event, we've prepared 2 new use cases. We used different testing tools for these use cases to show the importance of each tool and how they can offer solutions to numerous industries.
AltWalker
In the showcase for this event, we've tested a Unity game which involved the use of AltWalker, a model-based testing framework, designed to automate test execution.

We have designed a number of tests to check the main scenarios of the game as a directional graph and used AltWalker to execute them. So when the cat in this game is bumping into objects, that's not accidental, it's just one of the scenarios.

Visitors that stopped by our stand were able to see on the Visualiser, what tests our tool was running, if they had passed or failed, and other data and findings relevant to that test, all in real time.
We've named this tool AltWalker because it literally walks you through every path it follows when it runs tests in random order. And, well, it's pretty obvious what the "Alt" part stands for 😉

You can see the real-time Visualiser and different tests in the video below.
TurnTable
Another important part in this showcase was played by TurnTable. In some of our previous showcases we've demonstrated how this robot can be used when dealing with photo or VR apps that require 360 degrees movements.

This time TurnTable is simulating hand movements which means it also includes up-down, rotational and tilt motions.

So for the showcase presented at TechXLR8 London, TurnTable is playing the Unity game, acting as the hands of the user. It must rotate and tilt the phone to make the cat jump or change directions, with the other 2 testing tools, AltWalker and AltUnityTester, giving the necessary commands so that the cat does not bump into obstacles.
AltUnity Tester
Do you remember our Unity game showcase from Mobile World Congress back in February? We had AltUnityTester help us identify the obstacles in the cat's path. For TechXLR8, we got more creative and used AltWalker and TurnTable to make it more complex.

For this showcase, AltUnityTester was acting as the eyes of our gamer, giving vital information to AltWalker such as: have certain elements loaded, what's the score, how much fish did the cat manage to catch and so forth. With this information, AltWalker can give further commands to TurnTable and make the "hands" move.

AltUnity Tester is an open source tool, which you can access here.
AltTap
Our knowledge and tools let us find creative solutions for emerging industries such as smart home devices. It can be quite challenging to run an automated test on scenarios where you have to interact first with a hardware component and then with its software.

That's where AltTap comes into play and helps us automate some of our testing processes.
By using tap and swipe motions, this robot acts as a human hand to interact with touch screen devices and other hardware components that use buttons.
In the showcase for TechXLR8, we used AltTap to interact with the Philips Hue switch and its application.

In the video below you'll see that we set AltTap to perform certain actions such as access the Home app by interacting with the touch screen device, dim or brighten the light by interacting with the switch and then switch off the light and proceed to repeat this flow endlessly.
Participating at TechXLR8 with the Romanian pavilion was a new experience and a great opportunity for us to discover people that are equally passionate and curious about technology and innovation. We were happy to be here and share our values and excitement with like-minded people.

What did you think about our tools and showcases? What are your suggestions? Leave them in a comment below.