With a lot of improvements and bug fixes as well as a few new features, AltUnityTester 1.3.0 is now out.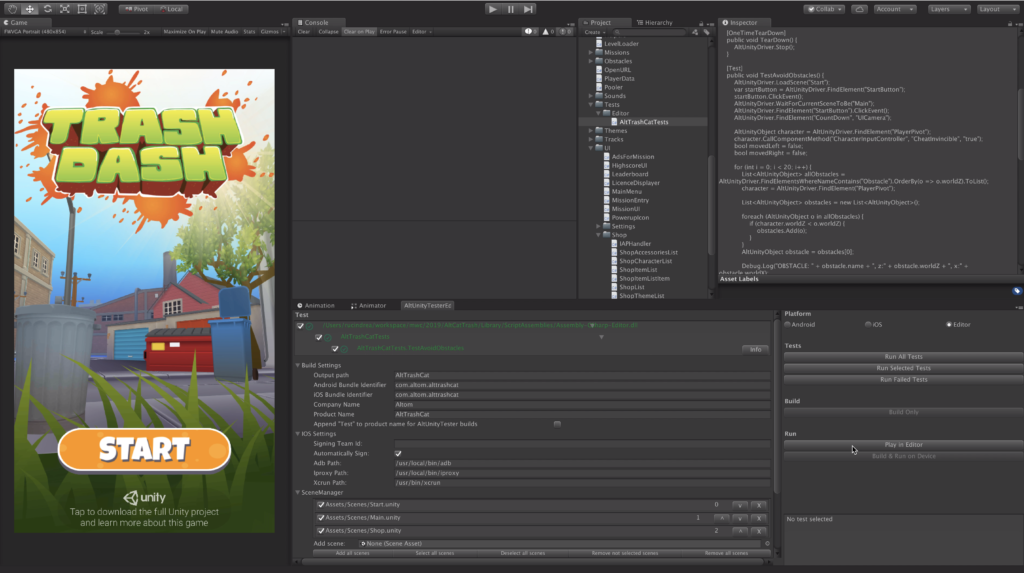 For this update, a lot of our focus was spent on fixing a lot of the issues that have been reported by our growing community – thank you to all of you who who got involved and took the time to report problems that you found!
Besides that, we also worked on a few new features and commands.
What's new
On the Unity Editor GUI side, we added the following:
Connected devices and port forwarding status are shown in UI and more than one device can be used at a time
Command separator is now configurable from the UI (but also from the code)
We improved the Build and Run Tests options
We also added the ability to run the test straight from the Editor, with the game in play mode – check out the video teaser below!
AltUnityRunner now also supports the following new commands:
Getting and setting the game Time Scale – this is super useful for games that have a fast pace, especially during test development. We used this new command a lot while developing the tests that you see in the video below, for an endless runner type of game
Getting elements that are disabled/not active in the scene
Helper commands for getting all the methods and properties for a specific component, as well as methods to get all scenes and all objects
On the C# side only, we also added methods for getting screenshots from Unity (as a Unity texture). Spoiler Alert! we plan to use this as part of our AltUnityTester Inspector tool, that is under development!
Other features and improvements:
We refactored the code to allow better command line building and execution of tests, and we also added some instructions to our Readme about how to build games instrumented with AltUnityTester from the command line. Thanks to Kamil for all the help on this side!
We added instructions and examples on how to run AltUnityTester tests in AWS Cloud
We fixes some bugs that cause problems when running the tests in Bitbar cloud
What's next
We are now working on a new video tutorial for AltUnityTester that will be using one of Unity's sample games, the TrashDash Endless Runner.
It's great to see AltUnityTester performing well enough to be used to test an endless runner type of game, so we wanted to share a teaser video that also displays some of the new features from this release.
We wrote a test that will simply try to avoid the first x obstacles. These come in a random order, and AltUnityTester is fast enough to cope with the speed of the game.
Check it out! (and notice how you can run the tests in the editor)